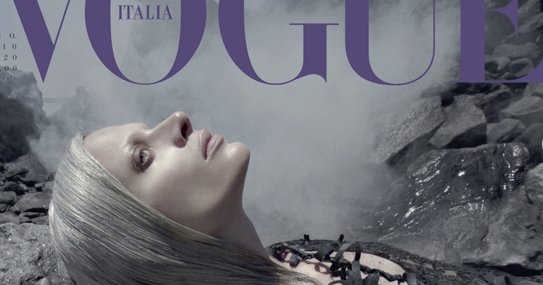 Una vez mas los problemas globales se vuelven a ver involucrados con el mundo de la moda y el glamour y esta ocasión no es la excepción para la revista mas importante del fantasioso mundo del la moda que es

Vogue

.
En esta versión Vogue Italia hace un editorial que hace alusión al derrame de petróleo en el Golfo de México, el editorial es realmente impactante nos muestra a la modelo

Kristen Mc Menamy

casi como un pez muerto y luciendo un vestido de alta costura ennegrecida por petróleo, carbón y grafito padeciendo asfixia
.
Realmente el styling y la producción de este reportaje gráfico es impresionante y logra tocar nuestros sentimientos y nos hace abrir los ojos!!
Sin embargo no todos están de acuerdo con que el mundo de la moda exhiba de esta forma los problemas que el mismo hombre está ocasionando. Es el caso de MAC y Rodarte que se inspiran en los problemas de las muertas de Ciudad Juárez en México, no hay por que alarmaros si es algo que vivimos día a día y nosotros mismo lo provocamos. Sería como criticar una colección de

Christian Dior

o

Chanel

inspirada en la guerra mundial o al mismo

Steven Spilberg

con Schindler's List.
"We live not according to reason, but according to fashion"
Tenemos a nuestro segundo colaborador llamado
Aldo Decaniz
del cual les dejo su biografía:
Lugar de Nacimiento: México DF, México
Ciudad actual:

Nueva York

, EUA
Nacido en la Ciudad de México, 1984, fue futbolista profesional, la mayor parte de su vida, después de su retiro retoma sus estudios en la Universidad Anahuac N. En la carrera de comunicación, pero no basto mas de un par de meses, para que tomara la decisión de que el mundo de la moda era algo que lo apasionaba y era su estilo de vida.
De esta manera Aldo da un giro de 360º y comienza sus estudios de Fashion Designer para así lograr entender la mente y visión de cada uno de ellos. Se muda a NYC, donde empieza una nueva etapa de su vida, Estudia en el FIT y trabaja en boutique en Soho, llenandose de moda.
Obteniendo una exquisita visión, viviendo al ritmo de la capital de la moda, toma las prendas, las fusiona y las integra para crear un estilo único, lleno de armonía, denotando la vanguardia y el estilo.